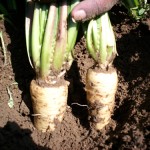 Roasted chicory root, Cichorium intybus, is one of Teeccino's main ingredients. Chicory is the most popular coffee alternative in France. French coffee is famous for its smooth, less acidic flavor because approximately 30% of French coffee is roasted chicory root. Another variety of chicory produces endive, the leaves that are used as a green in salads.
Teeccino is creating new trade by partnering to grow organic chicory in India with smallholder farmers who need a sustainable income crop to support their families.
Read more about Teeccino's mission to create new trade that provides income for small scale farmers and their families in India.
Chicory root contains the most inulin of any tuber. Inulin is a prebiotic that supports a healthy population of beneficial digestive flora in the intestines. Beverages made with roasted chicory root have a naturally occurring inulin content.
Five grams of inulin per day is considered a healthy daily intake. The average Western diet supplies approximately 2.5 grams per day from common foods like wheat and garlic. Teeccino has 650 mg of inulin in each 10 oz mug so by drinking several servings of Teeccino a day, you can achieve the recommended daily dose for a prebiotic.