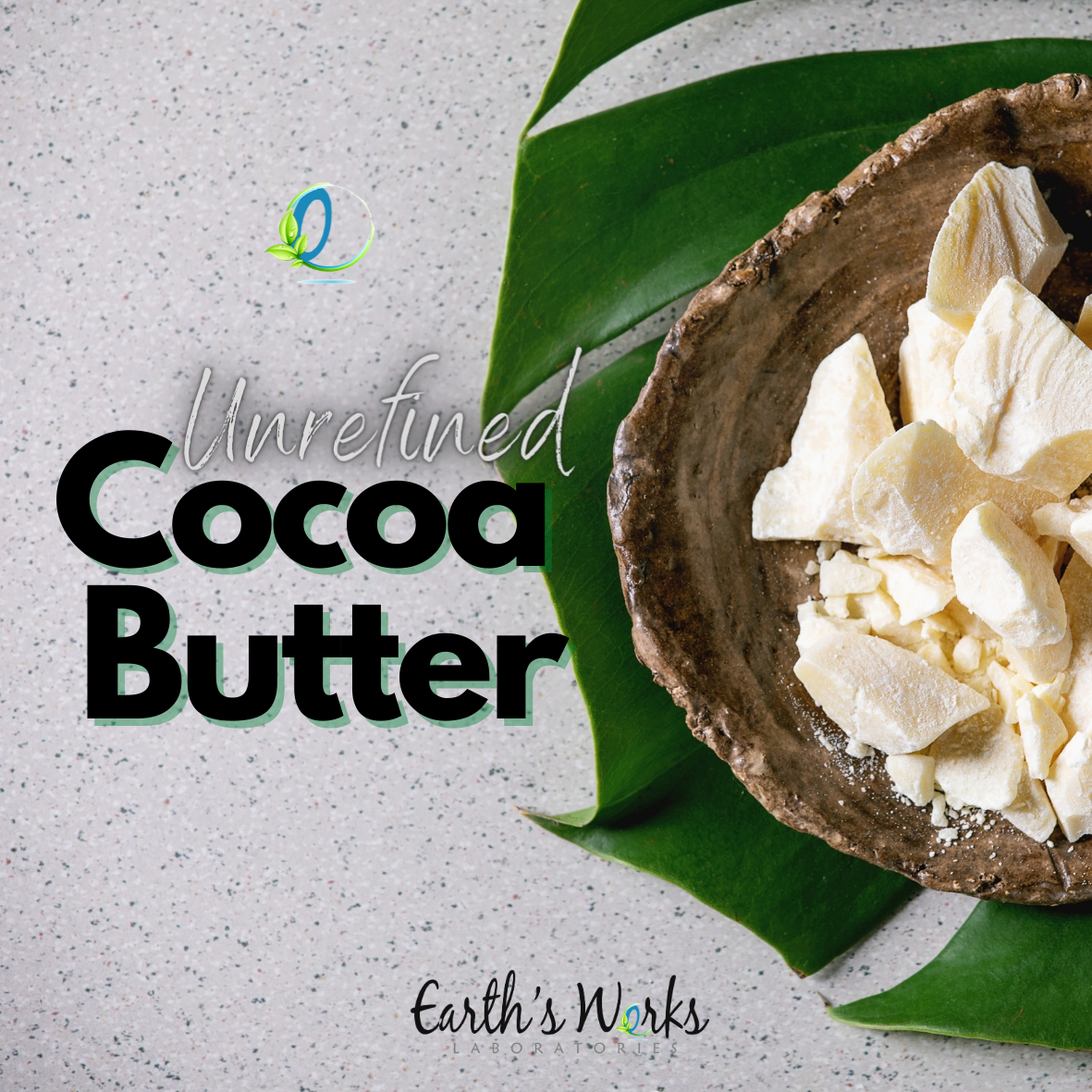 Cocoa butter, much like shea butter, is THE most popular butter to use on (and in) the body! Cocoa butter was remembered way before shea butter graced us – and for good reason!
This a a great butter to use on the skin because of its ability to improve elasticity and hydrate and nourish the skin. Here's why…
The fatty acids in this butter is the key. The fat creates a protective barrier over the skin to hold in moisture preventing dryness and peeling.
This barrier is also great to use with pure essential oils to allow the oils to penetrate into the skin better.  Otherwise, putting pure essential oils directly on the skin may cause some skin irritation and also poor absorption into the skin because it evaporates quickly; preventing the true benefits of the essential oils. 
Cocoa butter is also rich in natural plant compounds called phytochemicals – another benefit and beautiful connection to Earth!
Here are some cocoa butter benefits:
The fatty acids in cocoa butter are good for brain health
Powered with antioxidants that may help against inflammation
Contains some polyphenols that may help with heart health
Great for shaving
Helps with mouth sores, burns, rashes and infections (here is where pure tea tree essential oil is perfect to use with cocoa butter to lock in those benefits)
Helps with signs of aging
Prevents peeling and dryness
Helps heal chapped lips
Our pure cocoa butter is unrefined – nothing added (unless requested). We provide cocoa butter in the raw state as solids, whipped, mixed with carrier oils and essential oils – whatever you prefer, we can make it for you or provide you with the tools to encourage your own natural chemist to emerge for you to make it yourself! And remember…Every order you make with us, plants a tree around the world!